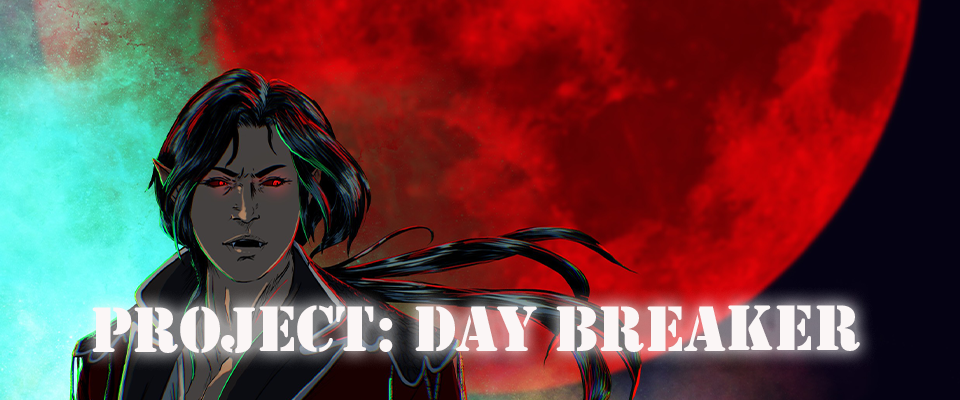 Project: Day Breaker
Project: Day Breaker is part of the Constellation RPG Zine Anthology published by Hit Point Press! Go support it! (Price of the game was inflated to $999.99 intentionally.)
Kickstarter link: https://www.kickstarter.com/projects/hitpointpress/constellation-rpg-zine-anthol...

Break the Daylight!
The year is 2599. Humanity has gone to the stars and seeks to forge a new destiny. The starliner, Persephone, carries cargo and passengers on a wayward journey to a new Sol colony on the moon Io. Among its cargo are ancient relics from Earth, ecologically devastated, in the hopes of preserving humanity's legacy. Unbeknownst to the crew or passengers, a dark and sinister terror has awakened.
Project: Day Breaker is a GM-less tabletop game where you take on the roles of a ragtag group of misfits onboard the Persephone. How will your group survive their ordeal on a ship infested with vampire spawns and the Prince of Darkness himself, Dracula?

A wooden brick tower simulates the tension as the ship's systems break down, you face terrifying foes, and find any means to survive with a bunch of volatile strangers. Each character moves' bring the Persephone to life while revealing more about themselves, sometimes inconveniently.
This game was inspired by Snakes on the Plane, Hobbs & Shaw, Gackt (Daybreakers single), and Underworld.

GAME INFO
Players: 2-4 players
Game Time: 2-3 hours
Content Warnings: agoraphobia, claustrophobia, horror, possible gore, feelings of being trapped or being stalked, space, undead, vampire, vacuum of space
In this booklet you'll find:
The basic premise for the game
Setup instructions
Gameplay instructions
A list of suggested safety tools
4 character playbooks

Play as the Swearer, the Superstar, the Messenger, or the Blood Angel

a Dracula Schema sheet
a room map of the Persephone
Help this game get Itch-funded! What your $500 USD pays for:
More commissioned artwork from Auri (@the_lady_auri), which includes internal artwork and art for the playbooks
Hire and pay an editor
Potential Stretch Goals include:
EXPANDED RULES & EDITOR - $750 USD pays for an expansion on the rules, a short story from Dracula's perspective about awakening in a "sea of stars" and the new era. Finally, this stretch goal allows me to hire and pay an editor.
2 NEW PLAYBOOKS - $1000 USD pays for the development of 2 new playbooks, the Wicker and the Dark Monarch. In addition, Auri returns to do the new artwork for the playbooks.
PRINT RUN - $2000 USD provides a pay boost for me plus it allows me to commit more to improve the layout for a zine-style print run of Project: Day Breaker.
Purchase
In order to download this game you must purchase it at or above the minimum price of $999.99 USD. You will get access to the following files:
Project Day Breaker - Pages.pdf
7 MB
Project Day Breaker - Spreads.pdf
7 MB
Persephone Ship Map.png
110 kB
Project Day Breaker Character Sheets.pdf
109 kB
Community Copies
Support this game at or above a special price point to receive something exclusive.
Community Copies
Claim a free copy of Project: Day Breaker (for those who are marginalized or who are in need). Copies are limited but will grow with each copy bought.